Calculating Pain and Suffering in a Washington Car Accident Case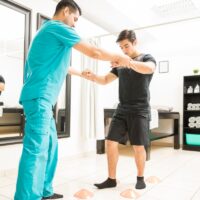 If you were injured in a car accident, you are entitled to more than just repayment of your immediate expenses. While you can sue for reimbursement of your medical bills and wages lost as a result of your injury, you are also entitled to compensation for the mental distress you suffer as the result of a severe injury. Read on for a discussion of how pain and suffering damages are calculated in a car crash case in Washington, and call a dedicated Vancouver car crash lawyer if you have been hurt in a car accident in Washington State.
Calculating pain and suffering
Pain and suffering are genuine harm experienced when a person suffers a significant injury. Putting a specific number to pain and suffering damages, however, can be difficult. Sometimes, pain and suffering damages might be measured as a multiplier of economic losses. For example, the court would take lost wages and medical bills and multiply them by three to get pain and suffering. That approach has lost favor. A multiplier is now more typically used to get a ballpark idea for pain and suffering damages rather than a definitive figure.
Courts will consider a variety of factors in determining how much pain and suffering to award. The award will generally depend on the severity of the injury, the long-term consequences of the damage, and how debilitating the injury has been and will continue to be for the plaintiff. Many factors might come into play, including the following:
● The age of the plaintiff
● Temporary or permanent loss of a bodily function, a limb, or the use of a body part
● Chronic pain, now and expected in the future
● Functional limitations
● Ability to work
● Ability to engage in leisure activities such as sports, housework, and sexual intimacy
● Scarring, disfigurement, or amputation
The more serious, debilitating, and long-lasting the harm, the higher the award of pain and suffering is likely to be. Discuss your accident and injuries with a knowledgeable car crash attorney to evaluate your potential pain and suffering damages.
Washington does not cap non-economic damages, and Washington courts have held such caps to be unconstitutional. In either state, there is no limit on economic costs such as medical expenses or lost wages, so long as they are adequately proven.
Call Vancouver Attorney John Lutgens for Help After a Traffic Accident in Washington State
For seasoned, dedicated, and trial-ready help pursuing a personal injury or wrongful death claim after a traffic crash in Vancouver or elsewhere throughout Washington, contact Vancouver auto accident lawyer John Lutgens for a no-cost consultation at 360-693-2119.