Common Types of Child Car Accident Injuries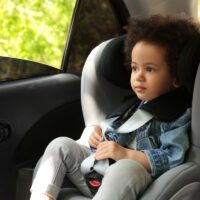 Parents care first and foremost about the safety of their children. Parents install all kinds of safety precautions in their homes and are constantly vigilant while out in the world, including while driving an automobile. Even with proper safety measures in place, unfortunately, accidents do happen, and children can get hurt. Continue reading for information on the types of accidents and injuries that children commonly suffer in car crashes, and call a dedicated Vancouver car crash lawyer if your child has been injured in a car accident in Washington State.
Airbag Injuries
Children seated in the front passenger seat are more likely to suffer injury than those in the back seat, in large part because of the front-passenger airbag. Airbags are designed for adults, not children, and the impact of the airbag can cause serious damage to the face, head, or neck of a child.
Car Seat Injuries
Car seats and other child restraint systems are important and necessary for children to have any semblance of safety while riding in a motor vehicle. Unfortunately, these devices are not always properly designed, manufactured, or installed. A malfunctioning child seat can cause a child to suffer serious injury or worse and open the car seat manufacturer to liability.
Head Injuries
Whether caused by the airbag or impact with other parts of the vehicle, head injury is the most common serious injury for children in car crashes. Head injury includes traumatic brain injury, unconsciousness, concussion, contusions, lacerations, and fractures to the skull.
Glass Injuries
Broken glass from a window or windshield can inflict serious cuts and scratches, causing blood loss, nerve damage, and scarring.
Psychological Damage
A catastrophic car crash is a traumatic event for everyone involved. The psychological effects on a child can be even more severe, especially if they witnessed a parent, friend, or other family member suffer serious injury or death. Children may need therapy or other treatment for months or years after a serious car crash to cope with the emotional and psychological damage and to mitigate any negative effects on their social and emotional development.
Fractures
Children commonly suffer fractures to the hand, foot, arm, leg, or wrist after a car crash. These injuries occur when someone braces for a crash. Seat belts can also fracture the pelvis in a high-impact crash.
Disability
One of the most frightening outcomes of any accident is a permanent disability. Children can suffer damage to the spinal cord, impact to the neck, or even lose a limb in a serious crash. Rollover crashes are the most likely type of crash to lead to some form of permanent disability or fatality.
Vancouver Attorney John Lutgens Will Help You Get the Justice You Deserve After Your Child is Injured in Washington State
For compassionate and dedicated help pursuing a personal injury or wrongful death claim after a traffic crash in Vancouver, or elsewhere throughout Washington, contact Vancouver auto accident lawyer John Lutgens for a no-cost consultation at 360-693-2119.