Child Car Seat Laws in and Oregon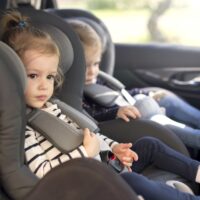 Different states have different requirements concerning child vehicle safety. While most states require children to sit in an approved car seat or booster seat, state laws vary in terms of the age at which a child no longer needs to use the car seat, where the child can sit in the vehicle, whether there are exceptions for certain types of cars, and other factors. Read on to learn about the car seat laws in Oregon. If you or your child has been injured in a car crash in Vancouver, Portland, or anywhere throughout Oregon or Washington, reach out to our dedicated car accident lawyer for help.
Oregon child car seat requirements
Under Oregon law, children less than two years old must be secured in a rear-facing child seat. While Oregon law does not require children under two to be placed in the back seat, "proper use" of a child safety seat prohibits installing the car seat in front of an airbag. Given that most cars have an airbag for the front passenger seat, in most cases, children under two must be placed in the back seat.
Any child under age eight and who weighs less than 40 pounds must be secured in a child safety seat at any time while in a vehicle. Children who are over 40 pounds and shorter than four foot nine are generally required to sit in a booster seat until they reach age eight. If the child is secured in a car seat designed for children weighing over 40 pounds, they do not need to ride in a booster seat.
Drivers on the highway are also responsible for ensuring that anyone riding in their vehicle who is less than 16 years old is properly secured by a child safety system, booster seat, safety harness, or seat belt.
There are very limited exceptions for the child seat safety requirement in Oregon. A child safety system or harness is only not mandatory if the vehicle wasn't required to be equipped with seatbelts when it was manufactured or sold, or where all other seating positions in the car are already occupied. A child safety system or harness is also not required where the use of a child safety system would be more dangerous to the child, such as if they have a medical condition.
Taxis are also exempt from child restraint laws in Oregon. We strongly recommend following all required and suggested child safety guidelines, even while riding in a cab or other exempt vehicle.
Call Vancouver Attorney John Lutgens for Help After a Traffic Accident in Oregon or Washington State
For dedicated and trial-ready legal advice and representation concerning a motor vehicle injury claim in Portland, Vancouver, or elsewhere throughout Oregon and Washington, contact Vancouver car crash lawyer John Lutgens for a free consultation at 360-693-2119.