Distracted driving worse than previously believed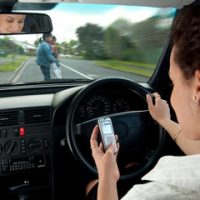 Smartphones play an ever-expanding role in our lives. Unfortunately, this means that more and more of us are unable to resist the pull to look at our phones while we're behind the wheel. According to a study recently published by a technology company, the problem of behind-the-wheel phone use is even more widespread than we thought. Read on to learn about distracted driving rates on US roads, and contact a skilled Washington car accident lawyer if you've been injured in a crash with a distracted driver in Vancouver or Portland.
The rate of fatal accidents has risen a startling amount in recent years. While the reasons for the rise are not entirely understood, many safety experts attribute the climb to behind-the-wheel distractions. However, the true rate of distracted driving can be difficult to measure, as drivers rarely confess that they were on their phones prior to a crash.
Zendrive is a software company whose software monitors phone use while the user is driving. The software is used in driver-side apps for ride-hailing services, as well as in apps for insurance carriers. Zendrive gathers anonymous data from these app users, which include more than 4.5 million drivers nationwide, offering a look at the actual rates of phone use while a car is in motion rather than a self-reported measure.
This year's data revealed that 60% of drivers used their phones at least once while behind the wheel each day, and that 40% of drivers used their phones at least once each hour. When extrapolating out to the entire US population, this means that about 69 million drivers use their phone at least once a day while driving. In addition to an increase in the number of people who use their phones each day, Zendrive found that, on average, drivers are spending more time using their phones while behind the wheel. The average driver used their phone for 3 minutes and 40 seconds while driving, marking a 5% increase over the total average time from 2017's study.
Seattle, Portland, and Vancouver hold the distinction of being three of the least distracted cities in the country, but distracted driving remains an area of concern in the Pacific Northwest as with the remainder of the country. The CEO of Zendrive, Jonathan Matus, pointed out that, "as you have more young drivers on the road, and as people increasingly become addicted to their smartphones, it will continue being a major health issue—almost an epidemic—in this country."
If you or someone you love has been injured in a crash with a distracted driver, find out if you're owed money damages for your injuries by contacting the dedicated, knowledgeable, and effective Vancouver personal injury attorney John Lutgens for a free consultation at 360-693-2119.