Can Estate Planning Docs Be Notarized Through Video Technology?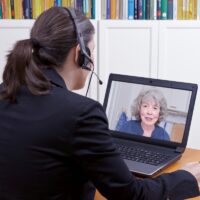 Notarizing estate planning documents is an important step to ensure validity and legal enforceability. Unfortunately, laws and institutions requiring notarization are a bit behind the times. While many people across the country have easy access to virtual video-conferencing services such as Zoom and Skype, as well as email and/or fax machines, many state laws still require notarizations and other official witnessing to be conducted in person. Some states have changed their laws in light of the COVID-19 pandemic and the need for remote services to avoid the spread of infection. Whether those changes will be temporary or permanent varies by state, although there is reason to be optimistic that video-conferencing will be accepted on a more widespread basis in the future. Below, we discuss the current state of the notary laws in Washington State. If you need help planning for your future, talk to a knowledgeable Vancouver trusts and estates lawyer.
Washington: Remote Notarization Effective March 2021
Historically, notarization in Washington has required in-person visits. Due to the COVID-19 pandemic, Governor Jay Inslee signed a proclamation permitting remote notarization on a temporary basis, with specific requirements about how such notarizations were to be conducted. The proclamation was originally signed in March 2020 and was only effective for a short time.
Thankfully, Washington officials had already provided for a more permanent remote notarization program. A law regarding remote notarization was passed in 2019 and finally went into effect on March 16, 2021. The law requires notaries to obtain special certification to conduct remote notarization and set standards for how such notarizations shall be conducted, including for proving the identity of the signatories and other parties. The law also requires notaries to use specialized software that meets specified standards, including that the notaries and the signers can see and hear one another. The transaction must still be physically recorded in the notary's journal.
If you have questions about notarizing your trusts, drafting a will, or other estate planning instruments and how they could benefit you, contact the Vancouver offices of John Lutgens for a consultation on your Washington estate plan.