How Does Divorce Affect Estate Planning in Washington State?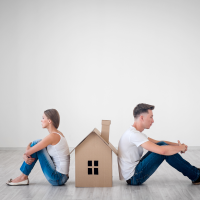 Heightened emotions during a divorce may prompt you to feel as though you need to amend your estate planning documents. While you can make some changes, a divorce does not automatically change your estate planning. Certain aspects will immediately see changes while others may require some time.
In the state of Washington, individuals have to observe a 90-day waiting period after they apply for divorce for any changes to their estate plan to go into effect. Even then, if a divorce is contested, and there are numerous assets involved, it may take longer for any changes to an estate plan to occur.
While divorcing couples are permitted to make changes to their estate plan, many divorcees choose to create a new estate plan entirely. People choose this for a variety of reasons, some of which include the following:
Remove their spouse from ownership of assets
Remove in-laws from ownership of assets
Detail a new power of attorney or advance directive
Name a new beneficiary, or change the amount of ownership the beneficiary may have over an asset
Create a new trust following the division of marital assets
Updating Your Estate Plan After a Divorce
Divorce is a life-changing decision. The individuals you wish to inherit your assets or take control of your estate if you no longer have the faculties to do so yourself may change following a divorce. If you do not update the important documents associated with estate planning, your wishes might not be accurately reflected. Updating your estate plan can ensure that you have control over your assets in a way that best reflects your wishes following a divorce.
Important documents to go over following a divorce include the following:
Will
Trust
Life insurance policies
Financial accounts
Retirement accounts
Guardianship
Retirement Accounts and Other Financial Accounts
Estate planning will take into consideration financial accounts like your IRA, 401(k), pension, or other personal accounts. Depending on the way the account was set up and whether it was deemed marital property, you and your spouse might have to divide the assets in it. Regardless of division, you may want to reconsider who is named as a beneficiary of the account. During a divorce, you will be unable to take your spouse off of these accounts and will have to wait until the divorce is finalized to do so.
Advance Directives and Powers of Attorney
A power of attorney is a legally binding document in which a trusted individual is named to speak on your behalf in the event you have passed or are no longer in control of your faculties. This named individual (also known as the agent) can make decisions regarding your finances, property, medical care, and other important decisions.
Following a divorce filing in Washington, a power of attorney automatically becomes null if the agent named is your former spouse.
An advance directive also gives guidance on the types of medical treatment you can receive in the event you fall ill and can no longer advocate for yourself. There are different kinds of advance directives but the two most common are living wills and a power of attorney. While an advance directive does not automatically get revoked, this is something you should consider redrafting as you move forward in a divorce.
Wills
A will lists out your wishes, beneficiaries of assets, and other important details related to your end-of-life wishes. A common practice among couples is listing the other spouse as a beneficiary in their will. During and after a divorce, you might not want your spouse making decisions on your behalf. Additionally, after a divorce, any aspects of your will that name your spouse will be revoked because they are no longer your spouse. It's important to understand that you can create a new will at any time including during the divorce. Doing so allows you to keep your wishes intact even if the divorce is finalized.
Divorce and Trusts
A trust is a legal entity that can take ownership of property, financial accounts, and other assets. Additionally, beneficiaries like your spouse may be named in that trust. Unlike a will, you might not be able to remove a spouse from a trust if there are certain assets that belong to both parties after a divorce. However, a trust may need to be reworked if assets have been divided in particular ways.
Speak with an Estate Planning Attorney
Estate planning looks different for every couple. For couples who are going through a divorce, understanding the nuances of how divorce changes your estate planning is important. If you have questions or concerns regarding your estate planning, seeking the help of an experienced attorney can allow you to better plan for the future.
Washington estate planning attorney John Lutgens is committed to answering all your questions as you navigate divorce and its potential impact on important estate planning documents. Reach out to our team today to schedule your free initial consultation.