How Long Will It Take to Settle My Oregon Car Crash Lawsuit?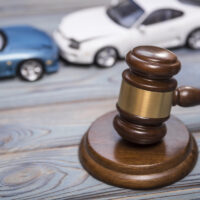 If you or a loved one has been seriously injured in a car accident, you are likely facing a lot of uncertainty.  Your medical bills may be piling up, you may be taking time off of work and missing out on wages, and you may generally be struggling with the disruption of your life that can result from a serious injury.  If someone else was at fault and you are considering a lawsuit, you are likely wondering how long the process will take before you can collect for your damages and shift your focus towards getting your life back to normal.  While there is no one-size-fits-all estimate for the timeline of a car accident lawsuit, there are factors that will affect how long-reaching a settlement is likely to take.     
Statute of limitations
If you were injured in a car accident, it is important to file your claim within the legal time limit.  If you wait too long, you lose out on your ability to recover from the at-fault party.  In Oregon, you typically have two years from the date of the accident to file a personal injury claim.  If you are suing for wrongful death, you have three years from the date of the underlying injury, and if you are seeking compensation for vehicle damage only, you have six years.  Claims involving children may also have more extended deadlines.
Note that there is no legal time limit for filing an insurance claim based on your accident.  Your policy, however, likely requires you to file a claim "within a reasonable time" or "promptly" after an accident, which usually means within a few days or a few weeks at most.
The strength of your case and the availability of evidence
The vast majority of car crash lawsuits settle out of court.  Few go all the way to trial.  How long it takes to settle will depend on the nature and circumstances of the accident, as well as the personalities and risk-tolerance of each party.  You and your attorney will discuss how much your claim is actually worth, how strong is the evidence supporting your case, how long you are willing to wait before accepting some settlement amount, and whether you are willing to risk trial based on the current settlement offer and the likelihood of success at trial.  The defendant will be having the same discussion and making the same calculations with their attorney.
If fault and proof are very straightforward (multiple eyewitnesses, a head-on crash in your lane, traffic camera footage, etc.), then you have a strong case, and you are more likely to convince the other side to make a reasonable settlement offer more quickly.  If the evidence is unclear, requiring, for example, the testimony of physics experts rather than eyewitnesses and photo footage, then you may have a longer road proving the strength of your claim and getting the other side to make a reasonable offer.
The severity of any injuries
If the accident involved minor injury or even a serious injury that can be resolved with a single surgery, then the case may proceed relatively quickly.  If you were seriously injured and require ongoing medical treatment, however, the cost of that treatment is a significant factor in your ultimate settlement.  You will typically want to wait to settle until you have completed principal treatment and can get a sense of the costs of any ongoing physical therapy, prosthetics, or other care involved. 
Bigger dollar amounts and more complicated calculations of ongoing medical care, pain and suffering, and other damages elements mean it will likely take longer to settle.  You likely do not want to accept a low-ball offer just to get some amount quickly, because it will leave you without compensation to cover additional expenses down the line.  Your personal injury attorney can help you estimate your expenses and weigh your best options.
Call Vancouver Attorney John Lutgens for Help After a Drunk Driving Accident in Portland, Oregon or Washington State
For passionate, effective, and zealous help pursuing a personal injury claim after a drunk driving crash in Portland, Vancouver, or throughout Washington and Oregon, contact Vancouver traffic accident lawyer John Lutgens for a free consultation at 360-693-2119.