Inspection Blitz Takes Thousands of Trucks Off the Road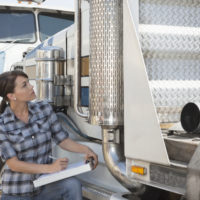 During the annual international inspection blitz known as Roadcheck this summer, tens of thousands of commercial vehicles were subjected to detailed inspections by enforcement officers, and a startling percentage were taken off the road as a result. The results of the inspection blitz draw attention to the hazards posed by ill-maintained trucks and the need for stricter enforcement of large commercial truck regulations.
Thousands of inspections conducted across North America
The Commercial Vehicle Safety Alliance (CVSA) is a safety group focused on preventing accidents involving large trucks, buses, and vehicles transporting hazardous materials. Each year, the CVSA conducts the International Roadcheck, a three-day inspection blitz that involves thousands of commercial vehicles. This year marked the 30th annual International Roadcheck. From June 6-8, 2017, trained inspectors conducted over 62,000 roadside inspections, with over 40,000 of those being detailed 37-point Level I inspections of both the vehicle itself and its driver.
Many vehicles found to be non-compliant
The 40,944 Level I inspections carried out resulted in a shocking 9,398 vehicles being found unfit to remain on the road and being immediately removed from service. Inspectors discovered that about 27% of those vehicles had critical problems with their brake systems. The brake systems on large trucks are of critical importance to the safety of others on the road. Large trucks can weigh up to 80,000 lbs, and they require between 20% and 40% longer to come to a stop under ideal circumstances. When precipitation or other dangerous road conditions are a factor, this distance can become even longer. If brake systems are permitted to decay, occupants of the vehicles sharing the road with large trucks are put at serious risk of injury in an accident.
Drivers often fail to take the rest they need
Not only were thousands of vehicles found to be too dangerous to remain on the road; many drivers were, as well. 4.7% of all drivers who participated in an inspection were taken out of service. The most common violation cited was the driver's failure to comply with hours of service regulations. These rules mandate that drivers take meal and rest breaks at designated intervals, so as to allow them the rest they need to be attentive and alert on the road.
If you've been injured in a crash with a semi or 18 wheeler in Washington, find out if you have a claim for money damages by contacting the dedicated, seasoned, and effective Vancouver personal injury lawyer John Lutgens for a consultation on your case, at 360-693-2119.