Liability in Chain-Reaction Car Crashes, Plus the Effect of Unusual Circumstances on Auto Accident Injury Claims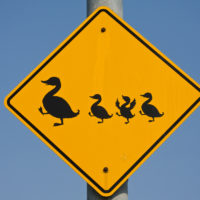 Earlier this year, a 61-year-old woman driving a Toyota Prius stopped for ducks crossing the road on the southbound Interstate 205 on-ramp from westbound Mill Plain Road in Vancouver. A male driver in a Nissan Maxima saw her brake lights and slowed down appropriately. A third driver in a Dodge Ram pickup did not see the two cars stopped ahead of him and rear-ended the Nissan driver, who in turn rear-ended the Prius driver. The Nissan driver, a 51-year-old man, was pronounced dead at the scene, and the woman who stopped for the ducks was injured. The driver of the pickup, a 53-year-old man from Portland, was not injured. The Washington State Patrol said that his "inattention" caused the crash. Read on to learn more about liability in chain reaction car accidents.
Stop in the Name of Ducks
If the injured woman files a personal injury claim against the inattentive pickup truck driver, and the deceased man's family files a wrongful death claim, can the unharmed pickup driver blame the ducks for causing the accident in the first place? The answer is no, the truck driver cannot avoid liability simply because the ducks were the first link in this chain-reaction car crash. Ducks and other wildlife are common in the Vancouver area, frequently making their way onto roads and highways, and it's reasonable (if not encouraged) for drivers to slow or stop in their presence. If the truck driver had been paying proper attention, he might have been able to avoid—or at least mitigate—the collision.
Determining Fault in a Multiple Car Accident
Some chain-reaction car accidents are the result of a single driver's negligence, while others may involve instances of negligence by multiple drivers. In a situation where police investigators reported one driver was inattentive or a driver admits to being distracted, it may be appropriate to assign that driver 100% liability. Often, however, there are other factors at play, such as bad weather, road construction, drunk driving, or, in this case, ducks.
Both Washington and Oregon are comparative negligence states, which means the fault of each party involved in an accident is based upon his or her respective contributions to the accident. So, while the pickup truck driver's liability may be lessened a little due to the ducks' contribution to the accident, he will likely still bear the brunt of responsibility for the accident overall.
Talk to an Experienced Washington State Car Accident Lawyer
If you have been injured or you lost a family member in a car accident, you may be entitled to compensation for your damages. An experienced car accident lawyer can help you obtain the recovery you deserve. In Vancouver, Washington and Portland, Oregon, call attorney John Lutgens at 360-693-2119 for a free consultation.