Passenger Rights After a Car Accident in Washington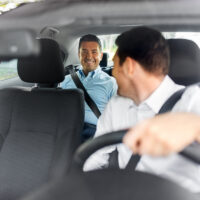 Drivers are not the only parties who may be hurt in an auto accident. Pedestrians, motorcycle riders, bicyclists, and other passengers are all liable to be hurt in a traffic crash. If you are a passenger in a car and you wind up in a crash, what are your rights? Are you covered by insurance? Can you bring a personal injury claim? Read on for a discussion of passenger legal rights after a car crash in Washington state.
Passengers can recover after an accident
Washington laws protect passengers who were injured in a traffic accident. As long as the passenger was not the party to cause the crash, such as by grabbing the wheel and turning into oncoming traffic, then passengers have the right to recover for their injuries. You can go through the at-fault driver's insurance or file a claim against them individually, depending on the circumstances of the accident.
Passengers can recover whether the vehicle was a passenger car, a taxi, a limousine, a boat, or a bus. Moreover, passengers often have the best injury claims because there is rarely a case where the passenger was in any way at fault; passengers are almost always a passive bystander and don't get tagged with contributory negligence, which could reduce the amount of compensation they receive.
You can, and should, go through official channels, even if the driver was a family member or a friend
Often, if you are in a car accident as a passenger, you already know the driver. They may be a family member or a good friend. Particularly if the accident was a one-vehicle crash, your friend might want to pay you out of pocket for any injuries and leave the cops and the insurance companies out of it. It is important to resist this urge.
Your friend or family member has insurance for exactly this reason. Likely, they will not be paying for your injuries out of pocket. Even if filing a claim regarding the accident raises their premiums somewhat, it is important that you go through official channels from the start. If you accept an out-of-pocket payment early on, the driver's insurance may use that as evidence that you "accepted a settlement" and reject your coverage. You may also miss the timeframe for filing an insurance claim. If your injuries turn out worse than you initially thought, and your medical care becomes much more expensive, you would then be left paying for your medical costs. Unfortunately, you simply cannot trust that your friend will be willing (or even able) to cover your total medical costs, lost wages, and any other damages, which could total in the thousands. Moreover, Washington law require drivers to report a crash involving injury to the Washington DOL. It is far better to handle things through the official, proper channels from the start.
Speak with a knowledgeable Washington personal injury attorney after an accident to discuss your options. You may have your own insurance coverage, you may file with the at-fault driver's, and you may need to build evidence for a potential personal injury lawsuit. Discuss the matter with your attorney to determine the best course of action for you, based on the circumstances of your accident and your claims.
Call Vancouver Attorney John Lutgens for Help After a Traffic Accident in Washington State
For dedicated, talented, and detail-oriented help pursuing a personal injury claim after a motor vehicle crash in Portland, Vancouver, or elsewhere throughout Washington, contact Vancouver traffic accident lawyer John Lutgens for a consultation at 360-693-2119.