Multiple Fatal Crashes as Portland Celebrates Traffic Safety Plan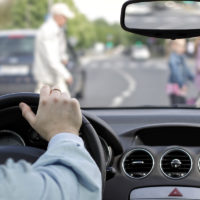 As we previously mentioned, while Portland is not the most dangerous city in the country in terms of car accidents, the city still sees its fair share of traffic fatalities. The City Council has been making significant efforts to curb this problem, including the recent completion of a multi-million dollar project on a 40-block stretch of Foster Road. The celebration of this achievement was soured by news of multiple fatal crashes within a day of the press conference announcing the project's completion, including one accident that occurred just feet from where the announcement was made.
Portland's Vision Zero goal: No traffic fatalities by 2025
Portland city officials are working towards a goal that is particularly lofty for any metropolitan area: No more traffic deaths by 2025. Vision Zero is a global initiative to eliminate all traffic fatalities by enforcing traffic safety laws, educating the public about the dangers of impaired, distracted, or aggressive driving, and redesigning roadways to better serve bikers and pedestrians as well as encourage slower driving. Portland is just one of a number of cities committed to Vision Zero's safety aspirations.
As part of that goal, the city recently completed a $9 million roadway safety project aimed to improve the conditions on Foster Road for pedestrians, bikers, and drivers. The safety improvements included additional pedestrian crossings, miles of bike lanes, widened sidewalks in many areas and a new center turning lane. The same day, the Portland City Council announced a two-year action plan intended to expedite traffic safety projects and decrease response time for traffic emergencies in order to reduce the incidents of serious injury or death.
Multiple fatal accidents undermine safety message
City leaders celebrated the completion of the aforementioned Foster Road safety project on a recent Thursday. Within hours of the press conference, three different people were killed in traffic crashes around the city, including one elderly woman who died after being struck by a car just a block away from where the conference was held. The 82-year-old Portland pedestrian was crossing Foster Road near Southeast 71st Avenue at around 8:40 p.m. when she was hit by an eastbound vehicle, three days before her 83rd birthday. Two other people died in a single-vehicle crash on Interstate 405 downtown within the same day.
According to Portland city records, there have been at least 28 deaths citywide resulting from fatal traffic accidents in the first half of 2019. The figures are current only as of July 5 and do not include, for example, the two sisters recently killed in a hit-and-run accident in Southeast Portland at the corner of Southeast 162nd Avenue and Powell Boulevard. While the city's commitment to traffic safety is laudable, there is still a long way to go before Vision Zero becomes a reality. Holding reckless or negligent drivers responsible for the injuries or deaths they cause can help us get there.
Get the Help You Need after a Traffic Accident
If you or a loved one has been hurt in a car crash in Vancouver, WA or Portland, OR, you may be entitled to compensation for your damages. An experienced car accident lawyer can help you obtain the recovery you deserve. In Vancouver, Washington and Portland, Oregon, call attorney John Lutgens at 360-693-2119 for a free consultation.