Pretext Traffic Stops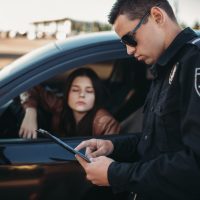 Police are meant to pull people over only when they have cause to believe an infraction or crime has been committed, or when they otherwise have specific authority to do so (such as at a designated checkpoint). Many police officers, however, use traffic stops as a pretext to search for something else–a different crime for which they have no probable cause to conduct a search. The officer will simply tail someone until they inevitably commit some inconsequential traffic violation (or the officer says they did), then pull the suspect over and proceed with a fishing expedition for other crimes. Defendants have challenged the legality of this sort of behavior. Below, we discuss pretext traffic stops and whether police have the capacity to stop drivers whenever they like. If you've been illegally pulled over in Oregon or Washington State, call our seasoned Portland and Vancouver criminal defense attorney for help.
Oregon Supreme Court Limits Police Authority to Use Pretextual Traffic Stops for Searches
The Oregon Supreme Court has held that officers have the right to pull someone over for any traffic violation, even if the officer's true purpose is to conduct a mini-investigation for some other possible criminal activity. Pretextual stops are, unfortunately, legal. Officers can even conduct a search as part of that stop, but any such search or investigation must stay within the confines of the original reason for the stop. If a driver is pulled over for failing to signal before making a turn, police do not suddenly have the right to search for drugs, weapons, or other contraband.
In State v. Arreola-Botello, the Oregon Supreme Court took the rule even further, overturning a drug conviction after a suspect was asked to consent to a search of his vehicle upon being pulled over for such a minor traffic violation. The Court held that the police are not even allowed to ask questions unrelated to the objective of the traffic stop unless they explicitly observe evidence of some other criminal violation (such as the presence of contraband or the smell of alcohol or drugs).
Notably, Oregon lawmakers have sought to address frivolous traffic stops. Per Senate Bill 1510, signed into law in March and effective as of March 23, 2022, police must inform suspects of their right to refuse consent to a search during a traffic stop. If the suspect is not informed of their right to refuse the search, then any evidence obtained may be suppressed. Oregon police are also more limited in their justifications for conducting traffic stops and are no longer permitted to conduct frivolous stops for minor violations such as a broken headlight or taillight.
Washington State and the Mixed-Motive Traffic Stop
In 1999, the Washington Supreme Court outlawed pretextual traffic stops–police cannot pull someone over on the pretext of a traffic violation when they are really trying to fish for evidence of some other crime (for which they have no probable cause to search prior to the traffic stop). The case of State v. Ladson arose based on allegations that police were selectively enforcing traffic laws against gang members in order to initiate contact and questioning without other proper evidence of a crime. The Washington high court found that such pretextual traffic stops were an unconstitutional abuse of police authority to conduct a warrantless search or seizure, and any evidence unearthed during such a stop must be suppressed.
Unfortunately, police in Washington continued to use pretextual traffic stops for other purposes, including to fish for drunk drivers. In 2012, the Washington Supreme Court again addressed the issue of sham traffic stops in the case of State v. Arreola, now in the DUI context. A law enforcement officer fully admitted that their true reason for pulling a driver over for a muffler violation was actually an investigation for DUI (to conduct a so-called "stop and sniff"). After hearing reports of a possible DUI, the officer located the vehicle and followed for roughly half a mile, observing no signs of DUI. Regardless of the lack of evidence for DUI, the officer pulled the car over for having an unlawfully altered exhaust.
After a conviction at trial, the appeals court held the conviction unconstitutional per State v. Ladson. The Washington Supreme Court reversed, holding that "mixed-motive traffic stops" are not unconstitutional: "A mixed-motive traffic stop is not pretextual so long as the desire to address a suspected traffic infraction (or criminal activity) for which the officer has a reasonable articulable suspicion is an actual, conscious, and independent cause of the traffic stop." As long as the police officer has cause to pull someone over for a proper traffic violation, they can do so, even if their true motivation is to conduct a fishing expedition for other crimes.
Call Vancouver Attorney John Lutgens for Help After an Arrest in Oregon or Washington State
If you've been arrested for DUI or other crimes in Portland, Vancouver, or elsewhere throughout Oregon and Washington, contact Vancouver criminal defense lawyer John Lutgens for assistance at 360-693-2119.