Red Light Running: a Source of Deadly Accidents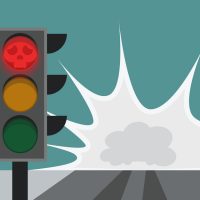 When in a hurry, the temptation to avoid the wait and run a red light can be overwhelming. Unfortunately, the possible consequences to other drivers, pedestrians, and cyclists from red light accidents can be catastrophic. A recent local accident that left a teenaged pedestrian in serious condition is but one example of the possible grave results from red light accidents. Learn more about how running red lights can have deadly consequences, and contact a skilled Vancouver personal injury lawyer if you're hurt in a crash.
Teen girl suffers multiple fractures in red light running accident
An accident earlier this winter left a local girl in the hospital with numerous broken bones. The 14-year-old girl was walking on her way to school at Columbia River High School in Vancouver at the time of the accident. The Clark County Sheriff's Office reported that, while the girl was crossing N.E. 99th Street, a driver traveling northbound on Hazel Dell Avenue ran a red light and hit the girl. She was taken to Randall Children's Hospital in Portland, having suffered a broken leg, broken elbow, and two cracked vertebrae. Doctors believed that she would make a full recovery from the accident but would need to wear a cast for six to eight weeks and use a wheelchair while she recovered. The driver of the car did not sustain any injuries in the accident. He was cited by law enforcement for driving negligently and for driving without insurance.
Red light running a major problem
Researchers cite red light running accidents (along with drivers running other traffic signals, such as stop signs) as the most common type of accident among those happening in urban areas. Each year, an average of over 700 fatalities nationwide are caused by red light running, and another 130,000+ individuals are injured in accidents caused by drivers running red lights. Not only is red light running dangerous, but right-on-red violations can also have deadly consequences. When drivers either disregard no-right-on-red signs or don't come to a full stop when turning right on a red light, cyclists and pedestrians often end up being the victims. In over half of all fatal red light running accidents, it is drivers in other vehicles, pedestrians, or cyclists who end up being fatally injured. Victims of this dangerous and illegal behavior often have a right to take legal action against the at-fault drivers in red light running accidents.
If you or someone you love has been injured in a Portland or Vancouver motor vehicle accident, find out whether you have a right to file a lawsuit against the driver responsible for your injuries by contacting the dedicated and effective Washington personal injury attorney John Lutgens for a consultation, at 360-693-2119.