Should You Refuse A Breath Test For DUI?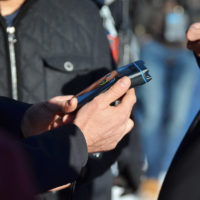 Being arrested for driving under the influence is a nerve racking experience filled with unknowns. If you don't know what the law does and does not require of you, it can be very difficult to be sure that you are doing what is in your best interest. On top of that, the police typically do not clearly explain DUI laws or your rights during an arrest and processing.
One of the most common uncertainties regarding a DUI arrest is the breath test. In most cases, the driver is given somewhat of a choice when it comes to taking the first breath test. Is this a trick question? Should you refuse? Here is what you need to know.
The Roadside Breath Test
When a police officer suspects that you are driving under the influence and pulls you over, he or she will need to establish probable cause in order to arrest you. In most cases, they will use a portable breath test (PBT) to gauge your blood alcohol content (BAC). If the test results show that your BAC is .08 or higher, you will be arrested. But, by law, you do not have to submit to this roadside test. Other uncommon field sobriety tests, such as reciting the alphabet, picking up coins, and answering trick questions, are also not a legal obligation under Washington Law.
However, refusing these tests will likely not prevent your arrest. In fact, a decision by Washington state Supreme Court (State v. Stalsbroten) allows a state prosecutor to argue that your refusal to take field sobriety tests is evidence of "consciousness of guilt."
The Official Breath Test
If you are arrested for DUI, you will be taken to the police station where the "official" breath test machine is located. The results of this test can be used as evidence at trial. You can refuse this test as well, but not without consequence.
If you refuse to take the test at the police station you will automatically lose your driver's license for at least one year. If you are later convicted of DUI, that suspension will extend to two years and you could be required to serve two days in jail.
On the other hand, if this is your first DUI arrest and you submit to the official test, the Department of Licensing will only revoke your license for three months, and upon conviction you'll serve only one day in jail.
Confusing the PBT and the in-station breath test is a grave mistake. While you have the right to refuse the breath tests, it is usually in your best interest to submit anyway. You can avoid "consciousness of guilt" and other serious consequences. Additionally, your lawyer may be able to point out irregularities in the arrest or get the judge's sympathy. (Was the test administered fairly and accurately? Are the results reliable?) Therefore, when assessing the risks, it is better to submit to both tests.
A DUI charge is serious and should not be taken lightly. A good time to consider these decisions is always before the worst happens. If you need a DUI attorney in Washington, contact the law offices of John Lutgens right away.