Sleep Apnea in Commercial Drivers Can Result in Serious Accidents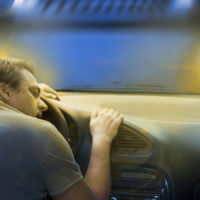 You may not realize it, but snoring can be the symptom of a serious medical condition, one which could pose a threat to the public if present in commercial drivers. The investigation of a recent fatal train crash has revealed that sleep apnea was likely a factor in the crash, serving as a reminder of the importance of testing drivers for this condition.
Obstructive Sleep Apnea is a condition where an individual's airway becomes blocked during sleep. This disruption in the flow of air causes the individual's sleep to be interrupted momentarily. This can cause serious fatigue and difficulty concentrating during the day for sleep apnea sufferers. Sleep apnea can even result in "microbursts" of unconsciousness where the individual will fall asleep briefly without remembering having done so. This condition can cause a commercial driver to be highly unsafe on the road or tracks.
The Federal Motor Carrier Safety Administration, the federal rulemaking body overseeing commercial truck drivers, does not require that all drivers be subjected to a sleep apnea test. Under federal regulation, all commercial drivers must be deemed medically fit to drive before receiving their commercial driver's license. If the medical examiner has reason to believe that a driver is likely to suffer from sleep apnea, such as by qualifying as obese, then the driver may be tested for the condition.
The Federal Railroad Agency recently issued a safety advisory on the subject of sleep apnea testing among railroad engineers. The publication strongly encouraged testing for sleep apnea in the wake of a serious accident that occurred earlier this year. A New Jersey train conductor pulled into a station traveling at nearly twice the posted speed limit, causing the roof of the station to cave in with the force of the impact. One woman was killed and over 100 more were injured as a result of the crash. The conductor could not remember the moments leading up to the crash, and could only recall waking up on the floor of the engineer's cab afterward. A subsequent medical test revealed that the driver had a severe case of sleep apnea which was the likely cause of the crash.
If you have been injured by a negligent driver in Washington, contact the seasoned and professional Vancouver personal injury lawyer John Lutgens for a consultation, at 360-693-2119.