Understanding Probable Cause and Illegal Search and Seizure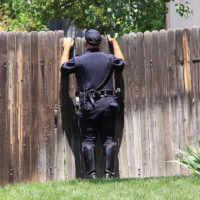 Imagine for a moment that you're being pulled over. If you didn't just run a stop sign or commit some other obvious moving violation, you're brain is probably spinning as to why you're being stopped by the police. When the officer appears at your window and begins questioning you it can be very intimidating. It is in this moment that so many people forget that they have rights. The same thing can happen when an officer (or five) is suddenly standing on your doorstep. Everything sounds like a trick question, and without meaning to, you give up your rights against unreasonable search and seizure. The police are not known for offering a clear explanation of rights, so when they ask to search your trunk, or "have a look around" your home, many people will oblige because they assume they have to, or that refusing will make them look guilty. But, you always have the right to refuse a search.
In order to legally search your person or your property without your consent, the police must have probable cause, which is a confusing term for many people. "Probable cause" is referring to clear facts or evidence that would lead a reasonable person to believe that you are involved in criminal activity. Without evidence, an officer's "hunch" is not enough to search or arrest you. But, it certainly doesn't take much to create probable cause in they eyes of the police. Empty baggies are evidence of illicit drugs, tagged merchandise is evidence of theft, and spray cans are evidence of vandalism. An expired registration is NOT probable cause.
For example, let's say you have a tail light out and the officer who pulls you over asks to look in your trunk. You do not give consent, but the officer hauls you out onto the curb and conducts the search anyway. Then, suppose they find some contraband and you wind up facing a judge. If the officer who searched your vehicle did not have probable cause, and then searched even though you refused, your lawyer can file a motion to suppress that evidence. And, unless the prosecution has more, legally obtained evidence, your case is likely to be dismissed.
The courts are eager to uphold police searches, though, so aside from simply refusing a search, my best advice is to not expose yourself to the police. I don't want to tell you how you should and should not express yourself. But, covering your bumper in stickers that say "my other auto is a 9mm" or "my kid deals drugs to your honor student" may invite unwanted police attention. Being a public nuisance is simply asking for it.
If you're in need of legal representation in Clark County or any of the surrounding areas, contact my office immediately. Call 360-693-2119 or click here to request a consultation.