What Happens If I Don't Have A Will?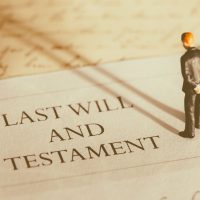 When a person dies without having made a will, all of their property subject to probate will pass according to the applicable state laws of intestate succession. Any property not included in a trust or titled in a way that it would pass to another outside of probate would be dealt with in this manner. Intestate succession laws are designed to distribute a person's estate to their family members, no matter how remote they may be. If you don't have a will, your property might not go to the people you wanted to get it. It might go to people you specifically did not want to inherit from you or even people you don't even know and have never met. If no family members can be found, your probate property will go into the state treasury.
Making a will allows you to decide who should get what when it comes to distributing your estate. You can leave a personal legacy to specific family members, friends, charities or your favorite causes, and you can exclude people who might otherwise inherit against your wishes. Below we discuss the byzantine laws of intestate succession that apply in Washington although we can only give a brief overview of these complex systems in this space. If you have questions related to making a will in Vancouver or surrounding areas, call Lutgens Law to discuss your needs with an experienced and dedicated Washington probate and estate planning lawyer.
Washington Laws on Intestate Succession
The intent of Washington's laws is to distribute the decedent's estate to the closest family members first. A surviving spouse or registered domestic partner gets all of the decedent's share of the net community (marital) estate, plus one-half of the net separate estate if there are children or three-quarters if there are no children but one or more parents or issue of the parents. "Issue" refers to direct lineal descendants, so the parent's issue would be their children and grandchildren (which could include the decedent's siblings, nieces and nephews). If the decedent does not have any surviving children, parents or siblings (or their issue), then the surviving spouse would receive the entire estate.
If the decedent did not leave a surviving spouse or domestic partner, the estate would be distributed to the decedent's children and grandchildren. Family members in the same degree of kinship receive equal shares, while those of unequal degree take by what is known as the "right of representation."
If no surviving spouse or issue, the decedent's living parent or parents would inherit the decedent's estate. If no parents, the estate would go to the surviving issue of the parents.
If there are no surviving parents or their issue, the estate would go to the living grandparents of the decedent, or the issue of the decedent's grandparents (the decedent's aunts and uncles and cousins) if the grandparents are deceased.
If none of these family relationships can be discovered, the decedent's estate will "escheat" to the state and be deposited into the state treasury for government use if unclaimed.
Call Vancouver Attorney John Lutgens for Help Managing an Estate in Washington
For help drafting a will and other documents to avoid or minimize probate in Washington state, contact Vancouver estate planning and probate lawyer John Lutgens for a no-cost consultation at 360-693-2119.